Navigating Tel Aviv's Public Transportation System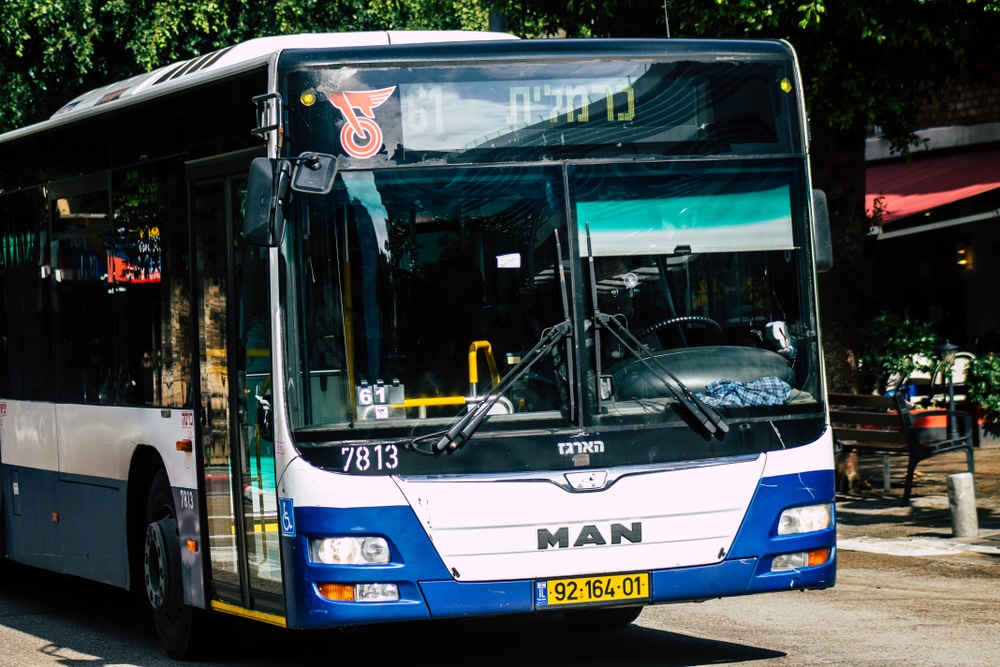 Tel Aviv, a bustling metropolis along the Mediterranean, offers an array of convenient and eco-friendly ways to get around, catering to both locals and visitors alike. From buses that crisscross the city to the ever-popular bike-sharing system, this guide will unveil the secrets to effortlessly traversing Tel Aviv's bustling streets and discovering its hidden gems.
1. Buses
As the backbone of Tel Aviv's public transportation, Buses are a vital mode of public transportation in Tel Aviv, connecting various neighborhoods within the city and extending to nearby cities and towns.
With frequent services running from early morning until late at night, hopping on a bus is a convenient and cost-effective way to travel. The primary bus operator in Tel Aviv is Dan Bus Company, with several private bus companies operating as well.
Buses run on designated routes throughout the city, and schedules are typically available at bus stops or online. Passengers can board the buses through the front door, purchase single-ride tickets from the driver, or use the Rav-Kav card (a reloadable smart card) for discounted fares.
2. Bike-Sharing (Tel-O-Fun)
Embrace the city's eco-conscious culture and pedal your way through Tel Aviv's charming neighborhoods. The city boasts a well-established bike-sharing system called Tel-O-Fun, with docking stations scattered throughout key locations, which allows users to rent bikes for short-term use and explore the city on two wheels.
Users can download the Tel-O-Fun app, sign up for an account, and use the app to locate available bikes and docking stations. Bikes can be rented and returned through the app, and users can pay for their rides using various payment options.
Discover the joy of riding along the beach promenade or exploring tree-lined boulevards, all while contributing to a greener environment.
3. Rental Cars and Taxis
For those seeking greater flexibility and convenience, Taxis are readily available throughout Tel Aviv, offering a convenient door-to-door transportation option for those who prefer a private ride.
Whether for a day trip beyond the city limits or a late-night ride back to your hotel, Taxis can be hailed from the street or booked through taxi company apps. Taxis in Tel Aviv run on a metered fare system, and it's recommended to ask the driver to start the meter upon boarding.
4. Ride-Sharing Apps (Uber, Gett)
Join the ride-sharing revolution that has transformed urban mobility. Tel Aviv has popular ride-sharing services like Uber and Gett, providing an alternative to traditional taxis.
To use their services, you can simply download the respective app, request a ride, and be matched with a private driver. The app provides an estimated fare for your journey from your starting point to your projected destination. More so, payment can seamlessly be made through the app.
With the popular ride-sharing apps, you can experience a convenient journey from point A to point B in Tel Aviv by simply summoning a private driver at the tap of a button, as it offers door-to-door service at competitive prices
5. Trams and Light Rail
Tel Aviv's modern tram and light rail system, also known as the Red Line, is a convenient and efficient way to travel within the city and its surrounding areas. With dedicated tracks and frequent services, the tram offers a smooth ride through the heart of Tel Aviv, passing major attractions and neighborhoods.
The tram runs from the southern neighborhood of Bat Yam through central Tel Aviv to the northern district of Petah Tikva. The tram has designated stops with platforms, and passengers can use the Rav-Kav card for fare payment.
6. Water Taxis and Ferries
Experience Tel Aviv from a different perspective by taking to the waters with water taxis and ferries. The city's coastline is well-served by water transport, offering scenic cruises along the Mediterranean and quick connections to nearby cities such as Jaffa and Herzliya.
Water taxis and ferries have designated docks along the coast, and passengers can purchase tickets at the boarding points or through official websites/apps.
7. Electric Scooters (e-Scooters)
Electric scooters have become increasingly popular in Tel Aviv, offering a convenient and eco-friendly way to move around the city quickly.
Several e-scooter-sharing companies operate in Tel Aviv. Users can download the respective app, locate available e-scooters on the map, and unlock them for rental. E-scooters are typically allowed on bike lanes and roads, and users are charged per minute of usage.
8. Walking
Walking is a fantastic way to explore Tel Aviv's compact and pedestrian-friendly neighborhoods, especially in the city center and along the beach promenade.
Walking requires no special equipment or payment. Simply lace up your walking shoes and set off to discover the city's vibrant streets, historic sites, and charming alleys at your own pace.
Conclusion
Embark on a journey of discovery as you dive into the diverse public transportation options that Tel Aviv has to offer. Whether you prefer the charm of biking along the beach, the convenience of hopping on a bus, or the excitement of riding the tram or water taxi, this guide will be your trusted companion. Let's set forth and explore Tel Aviv like never before!
Editorial credit: Jose HERNANDEZ Camera 51 / shutterstock.com