A Food Lover's Ultimate Guide to Tel Aviv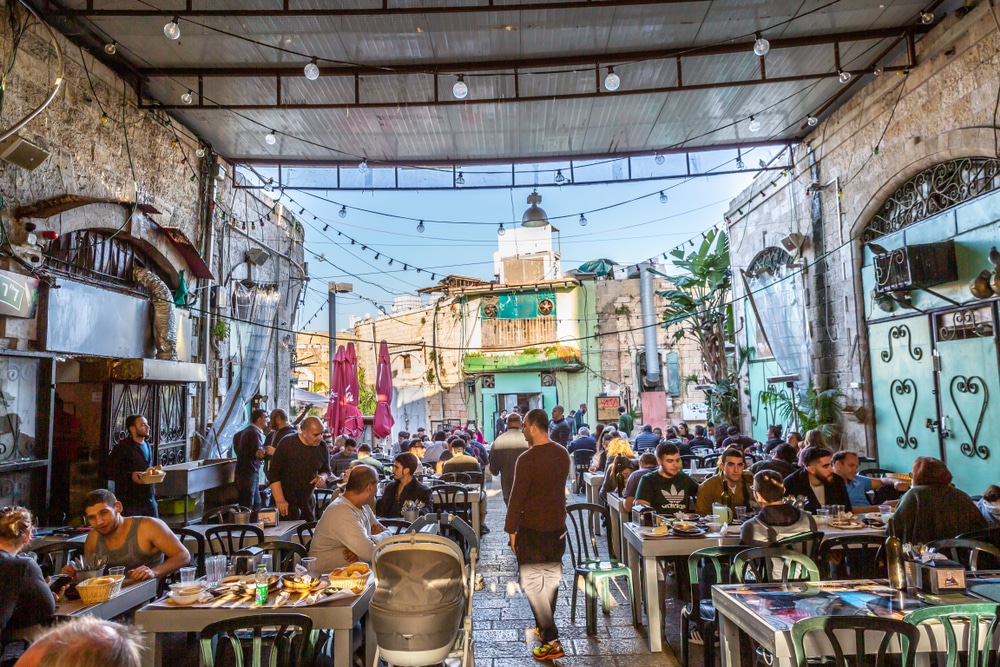 As one of the most vibrant and diverse cities in the culinary world, Tel Aviv offers a plethora of dining options to cater to all tastes and diets. Whether you're a meat lover, vegan, or have specific dietary preferences, Tel Aviv has something delicious to offer. Let's explore some must-visit places for food lovers in Tel Aviv.
1. Carmel Market (Shuk HaCarmel)
Carmel Market is a bustling open market located in Tel Aviv, Israel. It is renowned for its versatile culinary scene, offering a wide variety of fresh produce, fruits, spices, vegetables, and local thrills that highlight the delicacies of Middle Eastern cookery. Visitors can savor delectable street food such as shawarma and falafel, as well as enjoy a diverse selection of fresh seafood.
The market is also a paradise for those with a sweet tooth, with a tempting array of traditional desserts such as knafeh and baklava. Beyond its culinary offerings, Carmel Market's lively atmosphere and energetic ambiance make it an essential destination for locals and tourists.
2. Port Said
Situated near Shuk HaCarmel, Port Said is a trendy restaurant that offers a unique fusion of Middle Eastern and Mediterranean flavors. The vibrant atmosphere and diverse delicacies make it an excellent choice for groups with varied tastes. Also, its eclectic menu makes it a popular spot among locals and tourists alike. Try out their creative small plates and the famous lamb shawarma, and you will be glad you did.
3. Nanuchka (Vegan)
Tel Aviv is a paradise for vegans, and Nanuchka stands out as one of the city's best vegan restaurants. Under a lively atmosphere, enjoy their flavorful plant-based take on traditional vegan versions of Georgian dishes, along with an extensive cocktail menu. Perhaps, you want to pay them a visit, Nanuchka is located at Lilenblum St 30, Tel Aviv-Yafo.
4. Shila (Steakhouse)
Shila is regarded as the ultimate haven for meat enthusiasts. Indulge in the finest selection of premium cuts, expertly prepared to perfection. However, we understand that tastes vary, so we also present a delightful array of vegetarian and seafood options to cater to diverse preferences. You can find us nestled at HaArba'a St 14, Tel Aviv-Yafo, ready to delight your taste buds with an unforgettable dining experience.
5. M25 (Kosher)
This kosher restaurant embraces contemporary Israeli cuisine with a gourmet touch. From innovative fish dishes to succulent meats, M25 caters to kosher foodies and anyone looking for an exceptional dining experience.
M25, which is situated at Nahalat Binyamin St 93, Tel Aviv-Yafo, is an excellent place to experience the diverse flavors of Israel in an elegant setting.
6. Abu Hassan (Hummus)
A trip to Tel Aviv is incomplete without savoring some authentic hummus. Abu Hassan, located in Jaffa, is famous for its silky smooth hummus and fluffy pita bread. As the lines can get quite long, be prepared to wait in line for this delightful experience, as Abu Hassan offers one of the best hummus in the city.
7. Taizu
If you're in the mood for Asian flavors, Taizu delivers an outstanding fusion of Thai, Vietnamese, and Chinese cuisine. Their inventive dishes and stylish decor create a memorable dining experience.
The Intercontinental eatery is located at Echad Ha'am St 25, Tel Aviv-Yafo. Taizu.
8. HaBasta
Address: Rambam St 4, Tel Aviv-Yafo. This charming restaurant focuses on fresh, seasonal ingredients and Mediterranean-inspired dishes. The ever-changing menu ensures a delightful surprise with each visit.
9. Shuk Levinsky
It was established at Levinsky St, Tel Aviv-Yafo. This bustling market street is a haven for foodies seeking spices, nuts, dried fruits, and other Middle Eastern delights. Explore the various stores and don't miss the excellent Yemenite bakeries.
10. Dr. Shakshuka
Specializing in North African cuisine, Dr. Shakshuka restaurant is a must-visit for Shakshuka enthusiasts. Their flavorful and hearty dishes will leave you wanting more. You can find it at Beit Eshel St 3, Tel Aviv-Yafo
Conclusion
Remember, Tel Aviv's culinary scene is constantly evolving, so don't hesitate to ask locals for their recommendations. Whether you're a food adventurer or sticking to familiar tastes, Tel Aviv has a feast waiting for you at every corner! So, don't be afraid to explore and try out various places to discover your favorite food spots in this culinary paradise! Enjoy your gastronomic journey through this dynamic city
Editorial credit – Finn stock / shutterstock.com